Infosec Management System
Sales Project Manager, Mark, has to get his new project "Alpha" reviewed by the Infosec
He navigates to the secure URL and logs in, if already existing user, or provided his email to receive instructions on self registration.
Mark creates an Review Request and submits it to Jay for approval.
He also searches for the documents published by Infosec, for example, guidelines on the supporting documentation required for his type of request and attaches the required documents upfront to save time on subsequent follow up.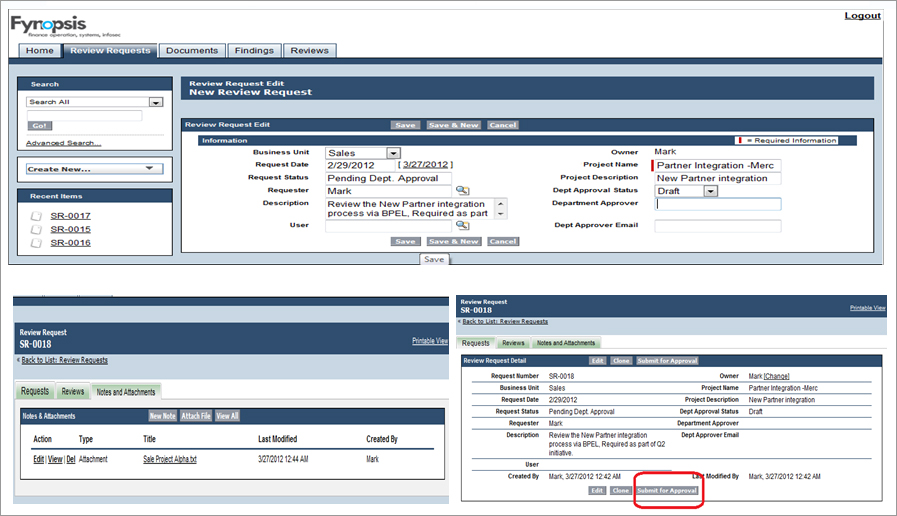 Jay receives an email for the request Mark just submitted and approves it via email.
Bobby who is responsible for Sales Projects from Information security receives this request and is now the owner of the request.
Bobby can see the attachments that came with the Request and the Approval History.
He can interact with Mark from within the application and keep track of email and call logs and create Tasks.
Bobby now starts the review, where he can interact with Mark.
Satisfied with the results and the documentation he logs his findings and approves the Review and closes the case.
Mark logs in from his portal and sees his Security Review Approved in time for his Release.
Ray who is the Directors of infosec can monitor the function by looking at his dashboard with drill down capability.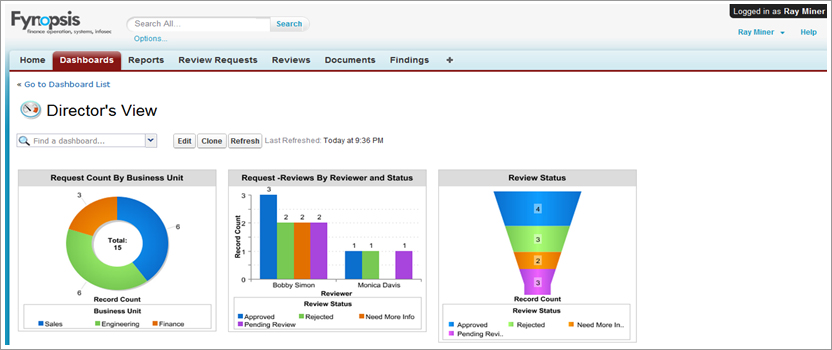 Ray can also look at all the Reviews via filtered & editable views.
The application is built 100% native on secure force.com platform and is configurable to meet most of the business needs.